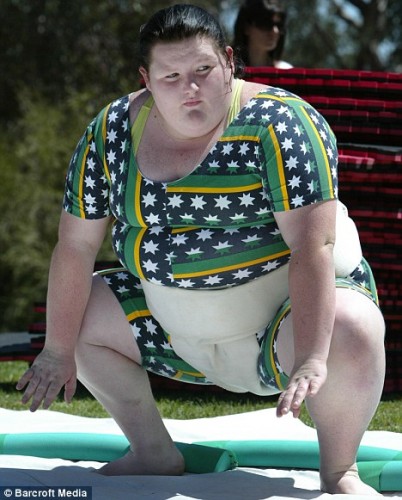 At the age of 14 and weighing in at 20 stone, Samantha-Jane Stacey is born to be a sumo wrestler.
She will be aiming for sporting glory as the youngest Australian to participate in the world wrestling sumo championships this month in Estonia.
Much focus will be on the championships after the sport, plagued with recent scandals, was hit with yet another controversy as three wrestlers admitted beating up a junior trainee who later died.
Born to wrestle: Samantha-Jane will represent Australia at the world sumo championships in Estonia this month.
The sport has also been hit with drugs and match-fixing scandals recently.
But none of that bothers Samantha-Jane.
Affectionately known as 'Sammy Sumo', she trains on a diet of Weetbix and lasagna.
Samantha-Jane says she is 'really proud to represent' her country but at the moment is more worried about getting through the 32-hour flight.
Send to Facebook
|
Send To Twitter