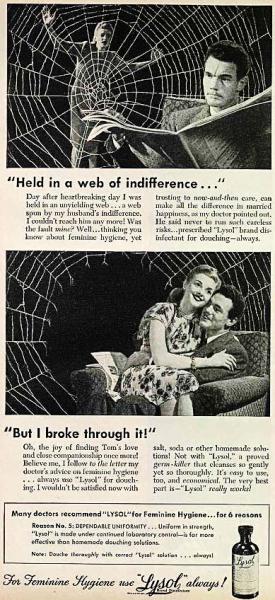 Day after heargbreaking day I was held in an unyielding web . . . a web spun by my husband's indifference. I couldn't reach him any more! Was the fault mine? Well. . . thinking you know about feminine hygiene, yet trusting to now-and-then care, can make all the difference in married happiness, as my doctor pointed out. he said never to run careless risks . . . prescribed "Lysol" brand disinfectant for douching – always.
What the fuck? Ladies, remember to douche with Lysol if you want a man!
From VintagePhoto
Send to Facebook
|
Send To Twitter
This video is of a fish named Goldy. This fish is the MCS Mascot and this fish is the primary moderator of content on the site.