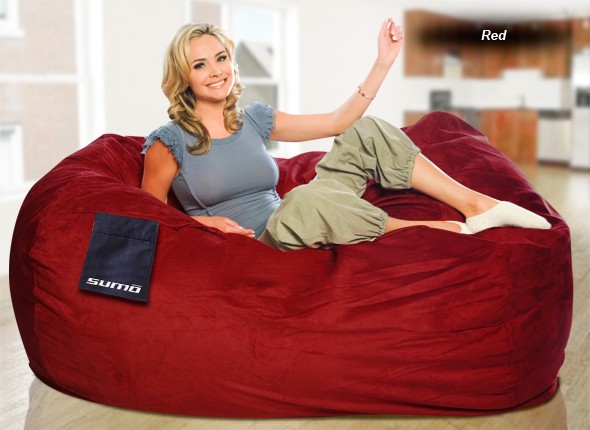 Sumo recently contacted me about their Sumo products, asking if I'd be interested in doing another review, which I believe would make for the third time that they've done such a thing, I've previously tried out the Sumo Omni Reloaded  and the Sumo Omni.  They sent out the Sumo Titan, which is large.  First, some stats and marketing fluff from their web site:
The Sumo Titan is by far the ultimate chill out chair out and is available in both Microsuede & Corduroy. This is one of the newest additions to our collection and with your valued feedback we have created one of our best big bean bag chairs yet! Lay down, kick back and chill out with your favourite movie, game or album on our awesome new Titan bean bag chair!!!

The Sumo Titan measures 70″ x 49″ x 36″
Removable & Washable Covers
8 different options
Extra length for lying down
Stays full and fluffy – will never go flat!
Free Shipping (as always!)
Made with 100% Polyurethane Foam

At Sumo we pride ourselves on bringing you the very best products made from the highest quality materials at the lowest price possible! Not only this but every order from SumoLounge comes with Free Shipping and our 100% Satisfaction Guarantee… can it get any better!!! At Sumo, we make it easy to buy large beanbag chairs online, and you will love the style and how large our beanbag chairs are.
I can't state this enough. This is a huge piece of furniture. The girl in the picture up there? She's got to be at least 5'10".  I'm 6'6″, and on the long side, this bean bag nearly comes up to my head, which is damn near insane.  It barely fits down a hall way and will take up  every inch it can, and since it's a bag filled with high quality beans and poly fill, it spreads out a fair bit.  All that being said, here's a picture of it immediately after I removed it from it's packing box a couple weeks ago with a cat to scale: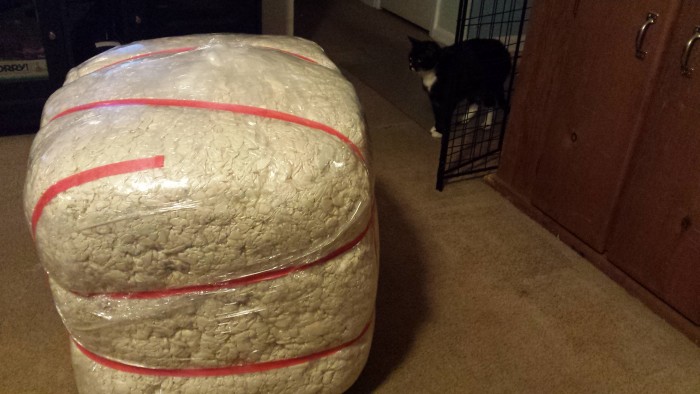 And here's a picture of the same item with my wife inside of the covering: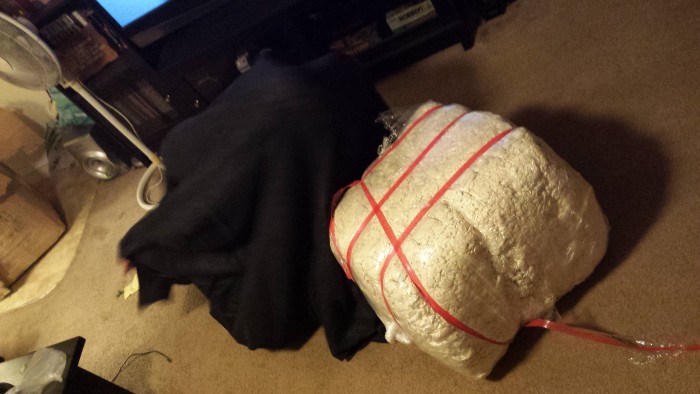 I can't imagine they're doing the packing by hand, they must have something like a box compressor doing this with the strapping mechanism built into it.  Taking it completely out of the packaging was pretty easy, breaking apart the pieces that were stuck together was less easy, but not impossible.  The instruction sheets with it claimed that it would self expand up to 90% of it's final size within 24 hours and be full sized within several days, which has proven to be absolutely true.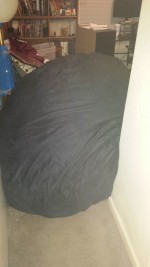 So how does it shape up as a bean bag?  Pretty damn well.  I've played several hours of the Master Chief Collection on it and due to the sheer size of it, it's acting more like a malleable chair than a standard bean bag, and once you get it into a comfortable position it holds itself pretty well.  From the time we opened it until today though, we had planned on painting the living room, so I had to put it into my incredibly small office that I have at the house, so here's a picture of it trying to live in there.  There's no way that I'm going to be able to keep it there, so I'm clearing some space from the living room now that we have it painted and all pretty and shit.  Then I'm likely going to go back to playing video games on it, because it's damn comfortable.
Two small minor quibbles about it though: The Price and The Smell.  This is a premium product that's currently being sold for $429.  Sticker shock is to be expected, which is well justified, but spending a bit of time with it warrants that price point.  After all, this isn't just a bean bag, but a significant piece of furniture that two average sized people can comfortably spend a significant amount of time on, so the price isn't something I would count as a true negative, just something to be prepared for.  The Smell though: it's significant.  After two weeks of living in my living room and my office it still gives off a fair bit of an industrial poly-smell that I'm nearly certain will go away completely eventually, but having it in my small office really amplified the effect.  There's ventilation in there, but it's not enough for what's coming off it at the moment.
In the end though, neither the price nor the smell would be something I would feel overcomes the enormity of it's utility as a addition to a room that has the space for it.
Send to Facebook
|
Send To Twitter