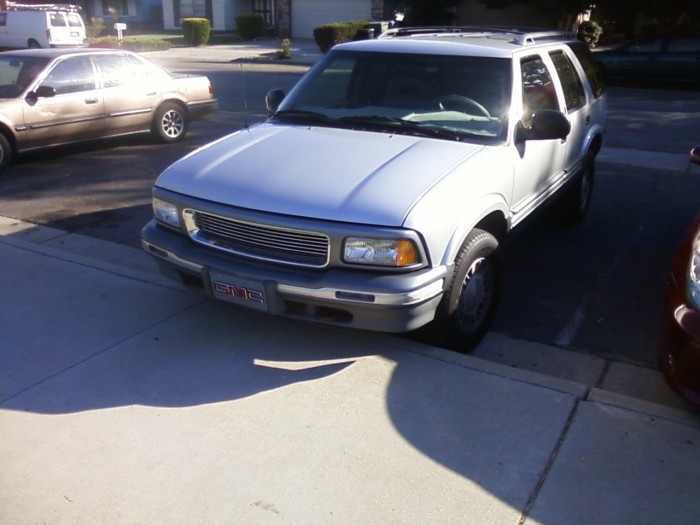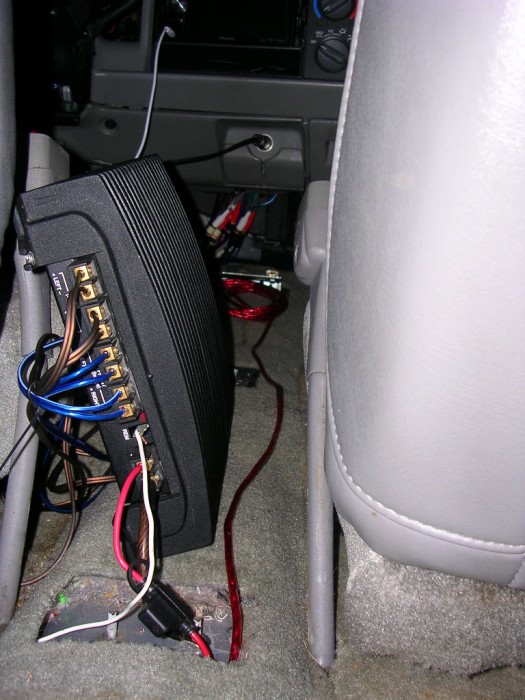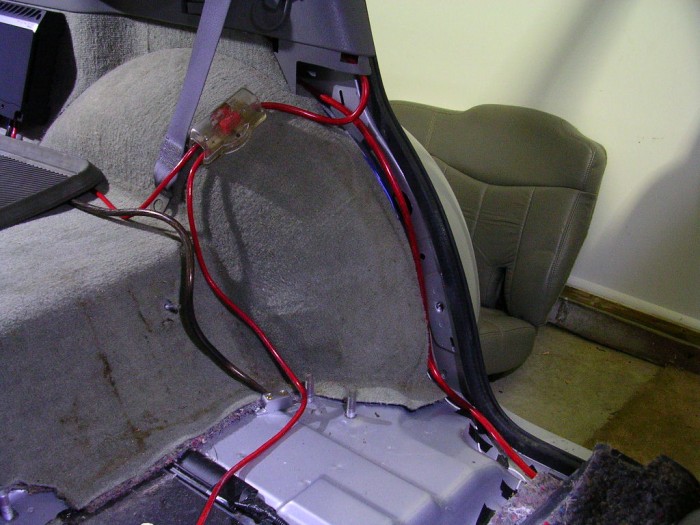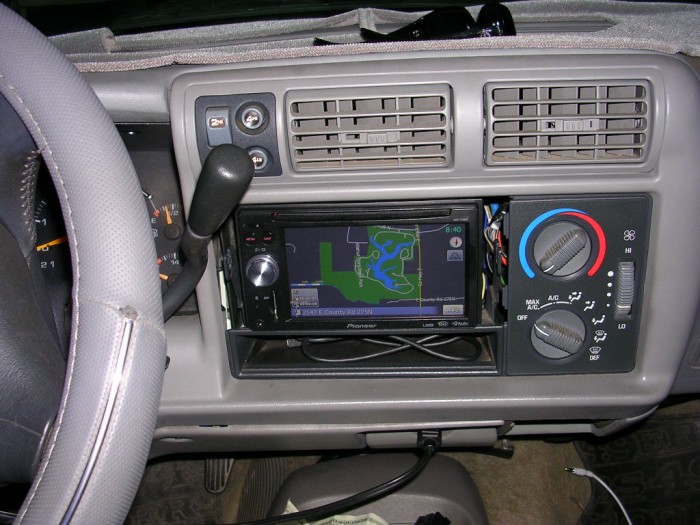 Not that anyone cares or hasn't seen it yet.
Technically it's a hand me down from my dad – yet it's still his. I'm just driving it and pimping the stereo out while he uses his other SUV and truck.
I've spent about $1,500 on the audio so far.
Pioneer avic f700BT head unit, double din touch screen navi, usb, 3.5mm, SD, backup camera, bluetooth.
To install this in the jimmy, I had to cut out all the plastic behind the head unit. It's not very hard, just takes a lot of time and patience.
I still need to make a trim for it, as the insides of the dash are showing.
I might just put some thick plexiglass or lexan and some led's behind it. The head has selectable backlighting which I might match behind the head unit.
Polk audio marine rated 40w rms @ 4ohms DB461 4×6″ 2-ways in the dash.
50w rms @ 4ohms DB561 6.5″ 2-ways in the front doors.
Both (or one pair by themselves) really provide a much, MUCH better front stage clarity than the stock mids on the head unit.
Powering them is an old school Rockford Fosgate 4080dsm which I picked up for $40 a few weeks ago and got a free box along with it.
My subs are a fairly beat up pair of old school audiobahn 12″s in a dual individually sealed audiobahn box. I have read that this combo was factory only, and the subs were not sold by themselves. Each side of the box is sealed for one sub, so if you play only one, or have only one sub, it will sound the same. They hit hard, and are reliable. I picked the subs + box up for $50.
I have a JL audio 12w3v3-4 12″ 500w RMS sub in a custom ported box built to spec for the sub which ran me about $350 total sitting in my room because I would rather use the shitty subs.
Powering either one is a Rockford Fosgate Punch 500-1 (P500-2) dual channel amp. I set the gain half way and the bast boost all the way off.
I have ran 4awg to the rear seats, and used a fused distribution block to each amp. I recently moved it from the back of the fold down seat protector thing so that I can use the entire cargo area as well as preventing the wires from pinching every time I fold the seats down.
If the pictures work the way I think, the last uploaded should go to the bottom, even after I uploaded 4 pictures.
The only mod I've done to it is a billet grille for the front.
We just had AT tires put on because the radials were cracking (well over the estimated mileage, and still had plenty of tread).
We also had the front end redone (bearing, ball joints, or some other shit) I don't notice it at all.
The power steering seems to be a bit rough. Maybe it's going out or needs fluid.
I looked the vehicle up on fuelly, and it gets 15-20 mpg which is terrible.
Send to Facebook
|
Send To Twitter