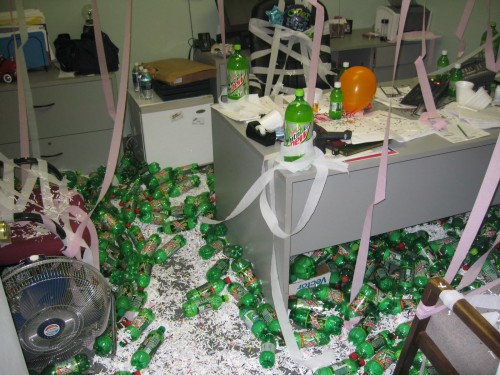 I unwittingly contributed to this mess….
Here's the background story: my boss an I have a serious Diet Mt. Dew addiction. When we have a meeting, it's – hey, grab one out the fridge. Sweet.
So, OUR boss and a bunch of co-workers took all the DMD's (and a few other Mountain Dew's) out of the recycling bins, and now you see the aftermath.
Last Monday was his 49th birthday. So, I clocked-in @ 8:30… he said, check this out. I lol'ed for a minute and said, hang-on, I gotta get my camera.
|
Send to Facebook
|
Send To Twitter
If you'd like to see what video games I'm playing or what LEGO sets I'm putting together, follow me on
twitch.tv/tgiokdi