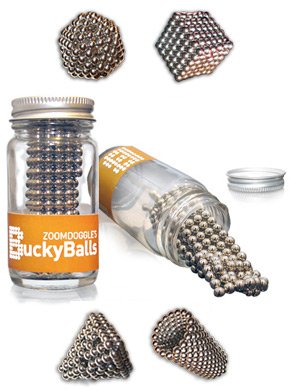 www.bustedtees.com/buckyballs?utm_source=CHStore
"Imagine a Rubik\'s Cube that actually makes you smarter; an Erector Set that never stops erecting; a Hula Hoop you don\'t look ridiculous playing with; Silly Putty that isn\'t silly; cram it all in a jar, turn the fun up to 11, and you\'ve got BuckyBalls!
Each set contains 216 powerful rare earth magnets that can be shaped, molded, torn apart and snapped together in UNLIMITED WAYS. Make sculptures, puzzles, patterns, shapes, stick stuff to the fridge, invent a new game—trying to find something more useful is useless."
Want.
Send to Facebook
|
Send To Twitter
This video is of a fish named Goldy. This fish is the MCS Mascot and this fish is the primary moderator of content on the site.