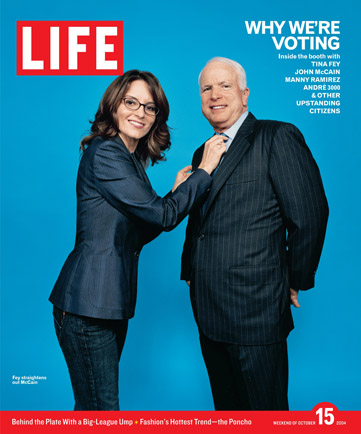 Bill Shapiro writes to Romenesko: I'm the former managing editor LIFE (the newspaper supplement version). After The Speech last night, I couldn't help recall our third cover featuring McCain and…. Take a peek. I think you'll find it very fun and rather prescient.
When we shot this photo for the third cover of LIFE (the newspaper
supplement version) back in September of 2004, we never dreamed we'd actually see it play out….or even anything this close.
As the election neared and it was becoming clear that every vote would
matter, we decided to ask a wide range of famous Americans why there were stepping up to the ballot box. We photographed Madeleine Albright, Manny Ramirez, Andre 3000, and Tucker Carlson (who told us, "People vote when they feel threatened. So it's a good sign, in my view, that half the country doesn't vote in the presidential election") among others. Of course, we photographed John McCain and Tina Fey together. He was thrilled to meet her and they got along very well: They had lunch and he gave her an impromptu tour of the Senate building. Makes us wonder if when McCain met Palin for the first time, he said, 'You know, you remind me of someone…"
Send to Facebook
|
Send To Twitter
This video is of a fish named Goldy. This fish is the MCS Mascot and this fish is the primary moderator of content on the site.